If you're serious about going places and hauling a serious amount of gear, here's your answer—the 800AL. It can carry 30 cubic feet of gear over the roughest terrain there is, and the best part, totally weatherproof. I coated the interior, lid, and cargo rails with the spray-on protective coating Line X . I then applied vinyl Camoclad in a Mossy Oak pattern that matches my Polaris Sportsman. Eddie Dale- Washington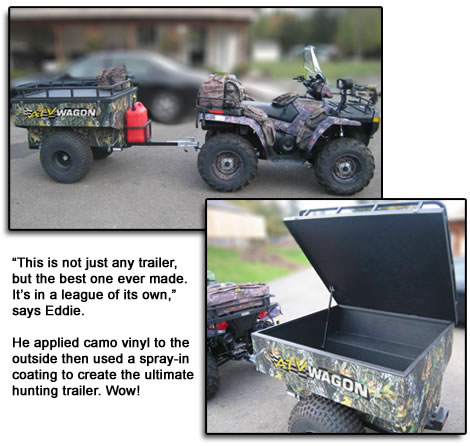 Your trailers are awesome, I thought nobody made anything like this before. I saw it on display at Team Bozeman and the 1600AL blew my mind. I am so impressed, you guys do such an excellent job for the money and features.
David Gates- Ennis, Montana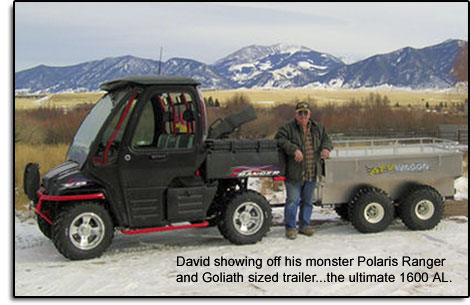 My ATV Wagon trailer makes getting wood fun on our 60 acres in the Adirondacks.
Tows excellent behind my Polaris Sportsman 400. Thanks for making such a great product. Jerry Capozzelli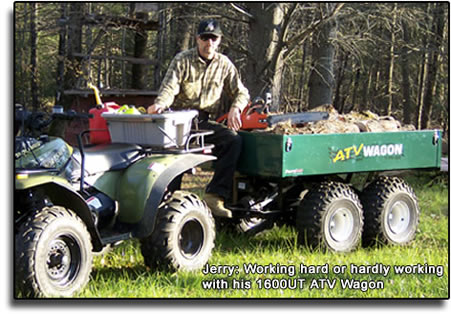 My Bosski trailer makes maintaining my 75 acre timber lot in the Catoctin mountains of Northern Maryland a lot easier. The high floatation tires glide over the rough terrain and the brakes allow me to safely transport fire wood from locations that were inaccessible in the past. Jim Bitner- Sabillasville, Maryland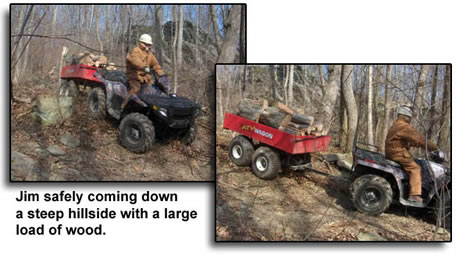 Got to look at one of your units today. Very impressive. Love all the electronic safety features (brakes) and the handlebar controls. I've been looking at your competitors King Kutter and the XB Polar Sport which sells in the Northern Tool Catalog. Your tilt bed system is by far surperior to their double diaphram hydraulic hand pump. In addition your tire size and suspension features are better. My late father had an accident pulling a trailer loaded with wood behind an ATC 200S three-wheeler. It jackknifed going downhill. He had avoided trying to hit a tree and made a sharp turn causing the jackknife because the trailer had no brakes.
Robert F. Silva- Central San Joaquin Valley, California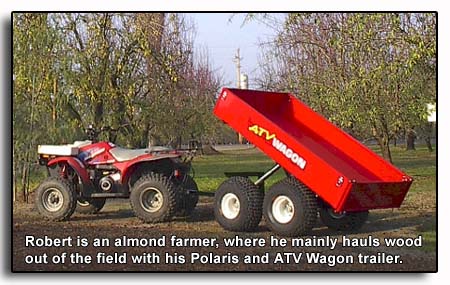 Here is a picture of my wagon loaded for trapping-- it works awesome! The ATV trailer pulls great behind my Polaris and I feel safe with the braking system.

I love it.


Don Reeder

,

Wisconsin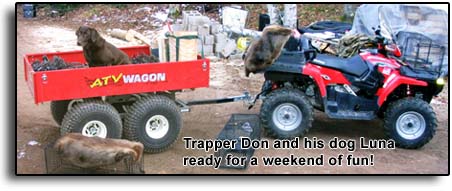 I am completely satisfied with my 800UT ATV Wagon. My dealer had a red one in stock so I bought a red 2007 Grizzly to pull it. I've owned several ATV's and a few different trailers. This is the best set up so far! It tows so easy I hardly know it's behind me. I accidentally bent my bed latch, but the guys at Bosski sent me a new part for free! I would recommend this trailer for any job you have! Thank You
,

Ryan Smathers, Orofino, Idaho
I had a minor problem with the lift, thanks for correcting it very quickly. Very nice quality wagon. Thanks, John Sivek- San Antonio, Texas
We thought about building our own ATV trailer that dumps. We priced axles, tires, metal, etc., but found the 1600 UT ATV Wagon to be our best deal and purchased one from our local dealer. Now my neighbor wants one! The ATV Wagon works fantastic. We use it regularly to clear rocks from our corn and bean fields. One of our employees is a 17 year old female, and she says the ATV Wagon is a lifesaver! Because of the power brakes and the ability of the Power RAM cylinder to dump over 1,000 lbs, I feel confident she can safely handle the heavy loads on the trailer. We shopped around, and the ATV Wagon is an exceptional piece of equipment for the price. Kent Lierman- Filer, Idaho
You have a great product. Mickey Shilton- Battle Creek, Michigan
We currently have an ATV trailer from a company called Country Manufacturing. This trailer came more than less equipped for the job. We added a hydraulic pump, piston, and adequately reinforced this trailer beyond extent. I am the weekend warrior of hauling wood and my wifes Honda 400 Rancher has felt the weight of the Country Mfg trailer. When I seen your trailer in Dirtwheels magazine, my first thought was if only 3 months ago! I have a farm and our trailer has made a difference, but I'm looking more for what the 1600UT ATV Wagon has to offer. Matt Wade- Navarre, Ohio
I am so happy to find a trailer that is enclosed. You have the right idea. I want the tent and sleeping bags to be protected from mud and dust on the trail. Kevin Zoellner- Taylorsville, UT

Your products are great! Ray Erck-Vacaville, California
And the Hits Just Keep Coming...
Awesome trailers! Ralph Bell, Washington, New Jersey
I live in Northestern PA and I traveled 80 miles/1.5 hrs. to see one of your trailers in person. I am totally impressed with the design and feel of your trailer-- this is the wagon for me. I plan on hauling mostly firewood for my outdoor wood furnace. The terrain I will mostly be on is quite sloped and rough. From the looks of it, the 1600UT and my Polaris Sportsman 400 appear to be the perfect companions for the job. I really think you have the best product that is currently available. Patrick MacConnell- Great Bend, Pennsylvania
I did some searching, and since I live in the mountains and terrain is rough, I am getting the 800. Too many friends have bought cheap trailers and the tongues collapse. I want one to last. Curtis Dill- Boise, Idaho
I would love to have one! This is a product that every ATV owner should have!!! Ron Madison- Ogden, Utah
Do you own an ATV Wagon trailer?
Do you share the same passion and excitement like these people? If you do, send us your letters, emails, and photos of you using the ATV Wagon trailer to be listed on our website. In return, we will give you a FREE Universal Rocker Switch, less the shipping fee, to control the dump on the 1600UT ATV Wagon-- a $59.95 value. This new switch easily mounts on to your handle bars and can control a variety of 12 volt accessories, such as: winches, dump boxes, ag equipment, or plows.