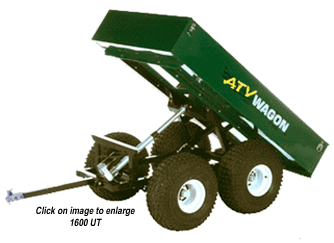 Made to carry the load, make your work easier and get more out of your ATV
More features than any pull behind trailer! Combine that with the price and it becomes the best value on the market. Four wheel independent suspension keeps the cargo stable, while large 63 cm tires provide clearance over obstacles. Heavy duty axles give you the capacity for almost 500 kgs of cargo. With safety in mind, the 1600 Utility is outfitted with electric brakes for the stopping power you need to keep control of those heavy loads and comes complete with a brake/tail light. Unloading your cargo with the double hinged tailgate and the electric lift is as easy as flipping a switch. Handlebar mounted buttons raise and lower the dump bed. Built for rugged use with powder coated heavy gauge steel.
SPECIFICATIONS (Click Here for US)
- Heavy Duty Steel
Construction
- 5 x 5 cm Square Tube
Frame
- Independent Suspension
- Heavy Duty Tandem 363 kg
Axles With Tapered Roller
Bearings
- Tires: 63 x 30 x 23 cm
- High 63 cm Ground
Clearance
- Electric Brakes
- Brake/Taillight
- Electric Dump Bed With
Handlebar Controller
- Double Hinged Tailgate


- All steel is Powder
Coated
- Colors: Forest Green
& Sport Red
Dimensions:
Overall:
119 W cm x 227 L cm
x 94 H cm
Bed:
114 W cm x 185 L cm
x 30 H cm
Capacities:
Volume: .63 Cubic m
GVWR: 727 kg.
Weight Empty: 244 kg.
A Powerful,
Versatile Workhorse
1600 Utility
Tremendous Value:
- Independent suspension
- 63 cm tires
- Electric brakes (brake
controller included)
- Electric dump bed
- Handlebar switch for lift
- Brake/tail light
- Double hinged tailgate
- Powder coated finish
Click on image to enlarge