ATV Wagon trailers expand into Australia

9/28/07 : Bosski Inc, manufacturer of the ATV Wagon pull-behind trailers, has teamed up with Apache Trading Post of Murrurundi to supply Bosski's high performance trailers in arguably the toughest testing ground anywhere on earth – Australia! At last, Aussie ATV and side-by-side UTV owners and dealers can get their hands on a trailer that matches the capability and power of their machines.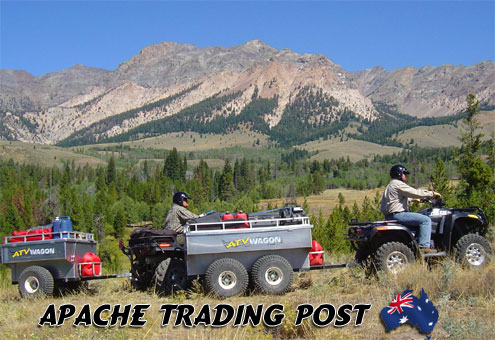 "Our trailers are growing rapidly with users in the rugged environments of Canada and Alaska, so it's only fitting that we expand into Australia," says Keith Evans of Bosski. With their massive carrying capacity, structural strength and industry-leading safety features, ATV Wagon trailers are ideal to combat the toughest conditions 'Down Under' offers-- leaving other light-duty plastic ATV carts for dead!
Bosski was the first to offer power brakes, tail light/brake lights, and the ability to dump 1000 lbs (475 kg) with the electric Power RAM. Plus every ATV Wagon trailer offers independent suspension using a torsion bar axle system which smoothes out the rough stuff.

The first shipment of 1600AL and 1600UT trailers has already landed in Australia, and will be available direct from Apache Trading Post.

ATV Wagon trailers are simply the best ATV pull-behind trailers on the market. Available from distributors and hundreds of quality dealers worldwide, including Australia.


Apache Trading Post
300 Timor Rd
Murrurundi 2338
NSW. Australia
Wade Farquhar
Mob: 0427 466 857
Tel: 02 6546 6857
wade@apachetradingpost.com.au


ATV Wagon by Bosski
5015 Aviation Way
Caldwell , ID 83605
208-455-8433 Tel
208-453-2721 Fax
www.atvwagon.com
sales@atvwagon.com