Respected hunter gives thumbs up to ATV Wagon trailer

1/26/07: Jeff Engel, avid outdoorsman, hunter, and host of Engel's Outdoor Experience has finally found an ATV trailer that meets his needs. Jeff Engel explains in more detail. "The ATV Wagon is the most dependable and durable trailer I have ever used. They don't pay me to use their trailer; I use it, because it's the best."

Jeff has been to the Arctic , New Zealand , Africa , the Yucatan Peninsula and all across the US filming his hunting experiences for his television show. "Jeff is a guy who knows a good product when he sees it. He works in the outdoors and he depends on items that are rugged and tough. I am excited to see that even our basic trailer that retails at $799 has met his needs," says Keith Evans of Bosski, manufacturer of the ATV Wagon trailers.

"If you are an avid sportsman and own an ATV, there is a pretty good chance you found yourself in need for a dependable trailer that can haul your game and your gear behind your quad,"Jeff explains. He was in need of a better trailer and tells his story. "I spent several days in Arizona hunting elk, and I wished I had a trailer. Once I returned home, I did some research on trailers. I found Bosski, based in Idaho, manufactures the rugged ATV Wagon trailer".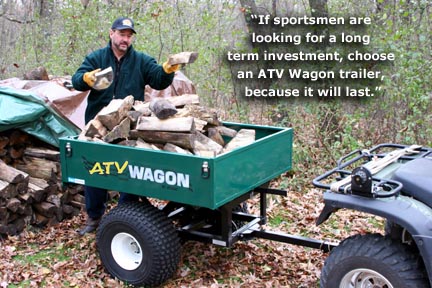 Engel's Outdoor Experience is a nationally televised hunting and sporting show on The Outdoor Channel. Jeff and his professional team combine rich videos, exciting hunting adventure, and valuable information on species from turkeys, deer, antelope, and bear. The Outdoor Channel has recognized Engel's Outdoor Experience as one of the top five TV shows for: Best Camerawork, Best Editing, Most Informative, Best Waterfowl, Best Turkey and Best Big Game.

"What really speaks volumes about Jeff is that he contacted us," says Evans. "We did not call him looking for promotional opportunities. He was looking for a better trailer, and we delivered."

ATV Wagon trailers are simply the best ATV pull-behind trailers on the market. Available from distributors and hundreds of quality dealers in the US , Alaska , and Canada .
ATV Wagon by Bosski
5015 Aviation Way
Caldwell , ID 83605
208-455-8433 Pho
208-453-2721 Fax
www.atvwagon.com