ATV Wagon Exclusive Trailer of QuadMasters
April 19, 2005 —"ATV Wagon is proud to be associated with QuadMasters ATV Challenge tour as the official pull-behind trailer for their events," announces Keith Evans, Sales & Marketing Director for ATV Wagon.
Evans adds, "I am sure the average grassroots contestant will find maneuvering a trailer quite challenging and the spectators will be highly entertained, especially if the drivers have to back-up!" "Backing up an ATV Wagon will test the most skilled ATV riders in the world," said Evans.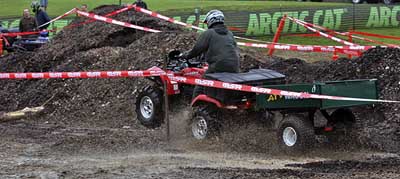 QuadMasters will be exclusively using 800 Utility trailers in one of their challenges. QuadMasters chose ATV Wagon due to their reputation, features, and toughness. Every ATV Wagon features all-wheel independent suspension and huge 25" tires—that can handle rough terrain. A powder coated steel frame & body will easily withstand the weekly abuse from QuadMaster contestants.
The 800 Utility is one of four base models available from ATV Wagon. The pull-behind trailer carries up to a gross vehicle capacity of 800 pounds with over 14 cubic feet of room and a brake/tail light for safety. Dumping cargo is so easy with the balanced lift bed and double hinged tailgate. Recently the larger, tandem 1600 Utility ATV Wagon received the top number of votes from thousands of consumers and dealers to win the prestigious Expo Award at the ATV Expo. The award gave the impressive distinction of "Most Innovative New Product of the Year"!
ATV Wagons are simply the best pull-behind trailers on the market. Available from 15 distributors and hundreds of dealers worldwide.
Learn more about QuadMasters at: www.quadmasters.net