ATV WAGON GIVES AWAY 1600 UTILITY TRAILER
9/15/2005: ATV Wagon and ATV Illustrated magazine congratulate Danny Lasco of Trevor, WI as the winner of the award winning 1600 Utility ATV Wagon trailer! Here is what Danny had to say:
"I really appreciate your participation with ATV Illustrated in the ATV Wagon trailer giveaway. The trailer is like nothing I have ever seen! Who'd of thought that one entry would win, but I guess it only takes one to win"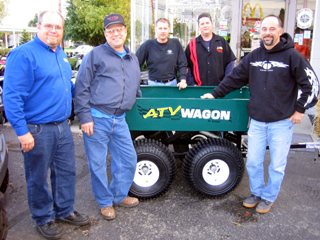 A big thanks to Bell Industries and Ace Powersports, the local dealer located in Kenosha, Wisconsin for allowing Danny to pick up the trailer ready to go. Pictured above, left to right, is Brad Benson of Bell Industries,winner Danny Lasco,Rich and Tim of Ace and at the end, Rich Powers of Bell Industries.
ATV Wagon by Bosski
208-455-8433
www.atvwagon.com