Trailers for Trails Taking Off

05/23/08 : Created in late 2006, the manufacturer of the famous ATV Wagon trailers, Bosski Inc. introduced their donation program called 'Trailers for Trails'. So far dozens and dozens of pull behind ATV trailers have been put to work with local recreation clubs from Maine to Montana, including clubs in Canada.
Retailers support the program because Bosski's number-one selling trailer is instantly moved from the showroom to the hands of the club. Now active quad owners can see and watch the product in action, where that consumer may not have seen the cool item ever before. "Sometimes a consumer never sees it at his retailer", Keith Evans of Bosski explains, "because he owns Brand-X and he would never go into the Brand-Y dealership and that's where the ATV Wagon is for sale".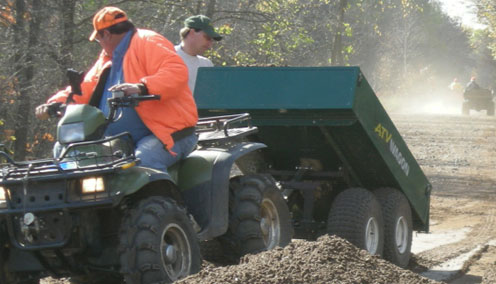 Above: Unidentified members of the Mille Lacs Drift Skippers of Minnesota perform trail work with a Bosski 1600UT ATV Wagon.
Bosski only sets up exclusive dealers per area to protect the retailers. ATV Wagon trailers have so many features that it can be challenging for the retailers to demonstrate the product effectively. Evans adds, "We support the dealer, who supports the club, who maintains the trails where consumers ride". Even when times are tight, consumers look for value and quality. Bosski's sales to consumers and dealers are at record levels in their 10 year history.
So far Bosski has applications or approvals from the following groups:
Mille Lacs Drift Skippers ATV Club
Kiwi ATV Snowmobile Club
All Season Wheelers
North Metro Trail Riders ATV Club
Over the Hills Gang ATV Club
Cannon Valley ATV Club
Babbitt ATV and Snowmobile Club
Androscoggin Valley ATV Club
Central Nova ATV Club
Metro District ATV Association
Rensselaer County SnowRiders
Sno-Kats
Crowsnest Pass Quad Squad
Eastern Washington ATV Club
Berkshire Trail Riders
Salmon River Country Riders
VP Knox Trailriders
Arizona Outlaw Riders
Marine Riders ATV Club
Mountain Home ATV Club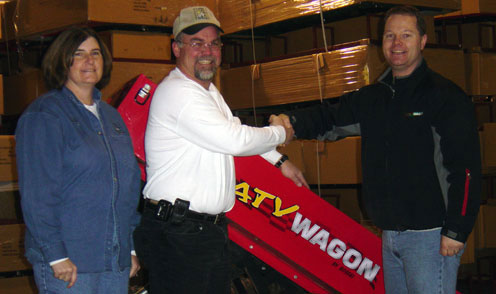 Above: A very happy Jodie and Rusty Faircloth (left) of the Mountain Home ATV Club shake hands with Keith Evans (right) of Bosski.
Bosski is also finding out how important the local riding club is to the success of the trail system. "I never knew the Forest Service would not open a trail without being properly prepared and cleaned and they put a lot of that responsibility on the club; we are glad that our trailers can open more access to everyone," explains Keith Evans.
Rusty Faircloth, president of the Mountain Home ATV Club, shares his passion. "We are out there maintaining trails so that other riders aren't making their own trails. With the 1600UT ATV Wagon there is no doubt we can haul every tool we need, spread gravel, or clear debris". Keeping the roads and trails open for all is what Trailers for Trails is all about.
Levels of sponsorship will vary according to each group, their needs, and funds available. The ATV Wagon distributor, in cooperation with the stocking authorized ATV Wagon dealer, will work directly with the club to purchase a trailer.All applicants must be a 501non-profit group.
ATV Wagon by Bosski
5015 Aviation Way
Caldwell, ID 83605
208-455-8433 Pho
208-453-2721 Fax
www.atvwagon.com
Trailers for Trails Application- Word Document
Trailers for Trails Application- PDF Document
12/06-Press Release- "Bosski Introduces the Trailers for Trails Program"