Off Road Camping Adventure with the 1600 Aluminum
from Quad Magazine

by Brian McCulloch, Associate Editor

"We brought along an ATV Wagon trailer to help carry some of our extra camping gear. The ATV Wagon proved to be one of our biggest assets during the trip, because it provided us with an aditional 40 cubic feet of packing space. We used that space to tote a cooler with all of our food and drinks, and we fit the majority of our camping supplies in the trailer as well, with room to spare. Besides giving us a ton of extra storage space, the ATV Wagon performed like a charm and proved its toughness as we took it through some pretty rough terrain.
The ATV Wagon towed nicely behind our Polaris Sportsman 800 and didn't get erratic or out of control on some of the faster descents that we took it on. This was only our first experience with the ATV Wagon trailer, but our initial impression was two thumbs up."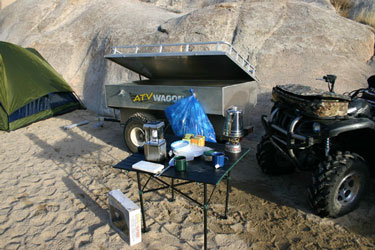 "In our opinion the ATV Wagon is a great product, it adds quite a bit of versatility to the sport utility segment. The ability to pull all of your gear with you and leave the quad unloaded is great, it allows you to unhitch your stuff at the base camp and immediately head out for a ride, very cool."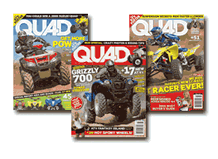 Learn more about Quad Off Road Magazine at:
© 2006 TransWorld Corporation, Oceanside, CA.